Mer Wands are wands owned by
Mer
, who live in
Novia
.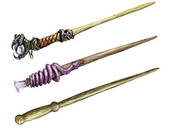 Mer Wands are created deep in the depths of the Sea, in magic bubbles that are created below the surface.
The Powers in the wands vary. Below is a table of common powers that correlate with the wand's strength.
Wands

| Power | Detail | Offensive Strength |
| --- | --- | --- |
| Ice Power | Allows the Mer to use an Ice shield and Ice offense | Medium |
| Sea Animal Power | Allows the Mer to conjure a Sea animal at any time | Medium-Low |
| Tidal Power | Allows the Mer to partly manipulate the Sea tides | High |
| Breath Power | Allows the Mer to block off an enemies air supply | Medium |
| Wisdom Power | Non-offensive, used for a scholar Mer | Low |
The Mer wands are obtained during the Mer Right of Passage.
Ad blocker interference detected!
Wikia is a free-to-use site that makes money from advertising. We have a modified experience for viewers using ad blockers

Wikia is not accessible if you've made further modifications. Remove the custom ad blocker rule(s) and the page will load as expected.